Top Discharge
Characteristics
With single phase, converter and various speeds, two kinds of air discharge: top and down.
Using specifically designed centrifugal fan, with high static pressure and long distance of air drive.
Smooth running, low noise, especially suitable for commercial application.
Using highly efficient cooling pads with large evaporation capacity, good cooling efficiency and easy to clean.
With a damper to prevent warm air leakage in winter.
Product Dissembling Figure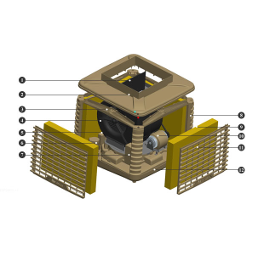 1.Return Air Damper
2.Lid
3.Water Distributor
4.Volute
5.Drain Valve
6.Circulation Pump
7.Control Box
8.Post
9.Cooling Pad
10.Fan Motor
11.Side Panel
12.Tank